Newest Version of FireFox - Imagehost Grabber Will Not Work
Forum Access • Support • Help

Posts: 445
Joined: 15 Sep 2013, 15:27
Country: The Beannn
tried it not an not work.
apparently members dont like the free fast links I provided thas y my accounts were deleted.
If any of my links u need re-uploaded message me an I will re-up
if any of my pw don't work message me asap an I will fix it.
---
Is ImageHost Grabber still working for others? It just stopped working for me and only downloads this image repeatedly.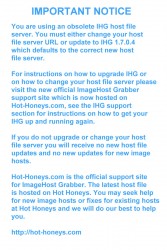 I'm using FF when this happened. I downloaded PaleMoon and it does the same thing. Does anyone know where I can get the version 1.7.0.4 or the new host file url? It looks like the host can't update now. I can't find any help on Hot-Honeys. Any help would be greatly appreciated. TIA.
---
Posts: 4318
Joined: 13 Nov 2015, 09:15
Location: A very comfy chair
Country: Canada
Looks like you missed this post:
help-tutorials/time-manually-update-your-ihg-t25546.html
Hidden Content

Only available for members.

More yummies
Cali Skye | Dolly - Veta | Kira | Verca | Gema | Veronica | Dayanna | Milena D | Adelia A | Kylie Cole
Green Bikini! | TeenGlamGirls | JustTeenSite Rips | Softcore Hots | Little Itty Bitty Titties | Nudie Cuties | More Nudie Cuties


---
Thank you Buzzer, that's what I was looking for. I couldn't find their new forum. All working now.
---
How to get IHG to work in firefox:

Open a blank window in firefox, in the address line type "about:config", hit enter.

Accept the warning.

Now scroll down to "xpinstall.signatures.required" and toggle it from "true" to "false"

Install the newest IHG and you're good to go.
---
Thanks for the information !
---
Posts: 1
Joined: 06 Mar 2017, 11:26
Country: united states
No longer works with newest version of firefox
---
Getting the host file error even with the newest host file from their site. Anyone get it to work?
---
The best source for problems or solutions with imagehostgrabber ist
https://imagehostgrabber.com/forum/
SenileDog
is the admin of this forum.
You have to create a login, then you will find a lot of information in there:
I work fine with
Firefox ESR 52.5.3(64-bit)
AddOn ImageHost Grabber 1.7.0.4c
hostf.xml from 21.Dec 2017
Well, what's your version? There is a
How to install: FF 55.0.3 64-bit?
-thread, maybe this is your problem?
The ESR branch is DIFFERENT than the normal release branch. Changes that might affect IHG, and other extensions are not as quick to show up there, as they are in the other branches.

And at FF V56.0 all IHG users should STOP.
The next release will not work with IHG.

And NO there is NO CHANCE of a new release of IHG compatbile with the messed up new system, why:

1) No API access to do the things needed for one thing.

2) NO DEVELOPER!
---
Users browsing this forum: No registered users and 2 guests